How To Remodel Your Living Room on a Budget
I love looking at home decor inspiration on Pinterest, watching home makeover TV shows, and dreaming about what my space could become with the right amount of effort and design-savvy.
Unfortunately, I don't have the budget to do a total overhaul of my home, knocking down walls and replacing windows. What I do have, however, is a little time and creativity, so I started looking into cost-effective ways to breathe a little life into my living room.
So, what are five easy ways to remodel your living room on a budget? To remodel your living room on a budget, you can paint your walls, add an area rug, upgrade your lighting, hang curtains, and invest in a statement piece of art or furniture.
By being strategic about how you complete these steps, you might surprise yourself about how drastically different your living room looks with very little monetary investment.
5 Ways To Give Your Living Room a Makeover On a Budget
Here are a few budget-friendly ways to renovate your living room: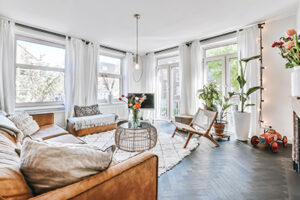 1. Paint Your Walls
Painting your living room is one of the best ways to get the most bang for your buck when you're looking to transform your space.
While minor as far as renovations go, painting is still a time- and work-intensive process, so make sure you do your research and fully prepare before jumping in.
Think through what color you want to paint your living room by considering what colors bring you and your family joy, what would go best with your trim and decor, and whether you want the paint to be a neutral backdrop or a bold statement.
The same paint color can look wildly different in different types of lighting, so be sure to put up some samples on several walls and live with them for a few days to make sure you're getting the color you want.
2. Add an Area Rug
Adding an area rug adds warmth and color to your space; plus, it can change the overall mood of your room even without new furniture or accessories.
You can quickly change a space from boring to fun or from chaotic to serene just by changing out the rug at the base of it all. Don't be afraid to layer rugs as well or to put one down on top of the carpet if you don't have hardwood or tile floors.
When you're choosing a rug, pay attention to texture — especially if you like to sit on the floor or have small children — and size.
At least the front feet of your furniture should be on the rug, but a good rule of thumb is if in doubt, go bigger, as a rug that is too small can make your living room appear more cramped than it is.
3. Upgrade Your Lighting
Upgrading your lighting is one of the easiest ways to remodel your living room on a budget, and it can dramatically improve how much you enjoy your space.
From a practical standpoint, having enough light in the right places can make your living room significantly cozier and more functional. Even simply adding a dimmer switch or changing your lightbulbs to a warmer or cooler version can make a huge difference.
From a design standpoint, dramatic light fixtures can double as artwork and transform the overall look of the room. You need a light fixture anyway, so you might as well buy one that adds style to your living room instead of only functionality.
This might increase the cost a little bit, but it's still cheaper than taking out a wall or putting in all new flooring, and there are fixtures available for a wide variety of price points.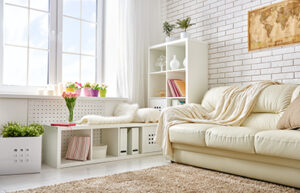 4. Hang Curtains
Hanging curtains is another easy way to upgrade your living room on a budget. They don't need to be fancy, as even a solid color will add texture and style to your space.
When you're shopping for curtains, buy them long enough to stretch from the floor to the ceiling, or at least halfway in between your ceiling and the top of your window.
By hanging your curtains this high, you'll provide the illusion of floor-to-ceiling windows, which makes your windows appear more high-end and architecturally impressive than they are.
5. Invest in a Statement Piece
Investing in a statement piece is one of the best ways to remodel any room on a budget because it can transform the feel of your entire living room with little effort. This statement piece can be furniture such as a sofa or bookcase or wall decor such as an oversized painting or a gallery wall.
Having something for the eye to be drawn to will make the room feel more cohesive and polished, plus it will show your personality and bring more of your style into your home.
Buying an item like this may require you to spend a little more than you normally would on a painting or chair, but it's still usually more cost-effective than replacing all of your furniture or buying 30 smaller pieces of decor.
By following just one or all of these five easy steps for how to remodel your living room on a budget, you'll be surprised at how much you can accomplish without breaking the bank.
How To Know What To Change in Your Living Room
It can be difficult to know where to start on redecorating your living room when all you want to do is throw everything out and start over. However, making a strategic plan is vital to staying on budget and ensuring that you love the result.
The first thing to ask yourself when you start this process is what the major pain points are in your space. Pain points are the areas of the room that you most notice and would most like to change.
When you look around your living room, is there an area that feels too formal or not your style at all? Is there a piece of furniture you detest? Is the overall vibe uninviting or uncomfortable?
Once you've identified and prioritized what your major pain points are, you can start to think about how best to solve them. For example, if your room feels uninviting, you might want to add some curtains to soften it and some additional lighting to brighten it up.
How To Make Your Living Room Feel Like Home
Your style and your needs are unique, and your living room should reflect that. Instead of focusing on just copying a trendy design you saw on Pinterest, think through what you like and what would make the room more functional for you.
For example, if you have small children, you might want to choose a softer, more easily washable area rug even if that means it's slightly less of a stylish focal point. You can then focus on getting a light fixture or wall art that gives you the style you want, but this way your living room will be enjoyable to be in as well as look at.
To make sure you create a living room that is both functional and beautiful without going over budget, take plenty of time to plan.
Think about what you want the overall vibe to be, what styles you like, what aspects you want to be timeless, and what you want to be trendier. This will help you create a room that you're happy with.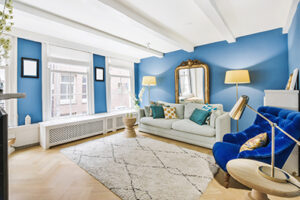 Tips for Redecorating on a Budget
Here are a few tips for helping you achieve the interior design of your dreams while sticking to a budget:
Consider leaning more timeless and neutral on your big-ticket items and add in trendiness with less expensive, more easily replaceable items such as throw pillows and side tables.
Don't feel pressured to overhaul everything at once; instead, focus on one project at a time.
Shop for unique pieces at antique and second-hand stores.
Never underestimate the power of paint and new fixtures on a worn-out piece of wood furniture.
Ask for feedback from family members and friends to make sure you don't jump into an expensive decision blindly.
Shop your house for furniture and decor that you could rearrange or repurpose before buying something new.
By keeping these tips in mind, you can create a living room that is both beautiful and functional without having to spend too much money.
Related Questions
Where can I find inspiration for renovating my living room? When you need inspiration for how to decorate your living room on a budget, check out online home and interior design publications and idea boards. Your friends can also be great resources for ideas and tips as well.
Ask if you can look around their home or simply pay attention to what you like about their spaces the next time you're there. If you know someone who's especially good at decorating, invite them over and ask them what they'd do in your space. Another perspective can be powerful and can give you fresh creative insight.
Where should I shop when redecorating my living room? It's a good idea to shop at a wide variety of stores when you're decorating your home because it can look cold and impersonal when it looks like something out of a catalog. Try visiting a local company, a thrift shop, or an antique store in addition to your more typical box stores and home decor superstores. By shopping at these establishments, you'll be more likely to find unique and interesting pieces for your living room that fit your budget.