Mixing Modern & Vintage Home Decor Styles
Are you tired of your modern decor? Has it lost its charm for you? Is the lack of authenticity the problem or are you just bored? In this article, we will take a look at how to mix vintage and modern decor. Even if this is not what you exactly want, perhaps it will give you some ideas for refreshing your home.
Cyclical Nature of Home Decor Style
It is important to remember that style, like fashion, is cyclical. As modern-day luxuries become too commonplace and the novelty wears off, people begin to long for the way things were. People miss their family heirlooms and vintage finds…and so begins a trend!
While some tend to view vintage decor as just another faddish trend that comes in and out of style, this couldn't be further from the truth.
True vintage decorating aesthetic has qualities found throughout many different cultures – a focus on quality materials, function over form, simplicity, bold color schemes, geometric shapes, rich patterns, tactile fabrics, one-of-a-kind creations – that are timeless because they are good design.
Vintage-style decorative items are a great way to add quality and character to any home, while also providing some history for the new owner.
Whether you choose modern or vintage decor depends on your personal preferences, but the critical thing is that it reflects who you are.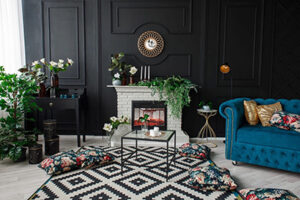 Adding Vintage Decor To A Modern Home
If you have a modern space, here are the top ten ways to decorate with vintage style
1. Decorative Cushions
Handmade cushions in unique colors and patterns can add comfort and flair to an otherwise boring sofa or bed. The added color provides great contrast against the neutral tones often used in modern home decor while also adding texture via different fabrics (i.e., velvet, chenille, satin).
2. Statement Lighting
Vintage lamps are an easy way to add some character to any room. They come in a wide variety of styles, which means there is something for everyone. Not your style? That's okay! There are plenty of modern options available as well.
You can even mix and match if that's what you're into.  Just keep in mind that having multiple light sources creates more layers and interest than just one overhead source, so if that's the effect you want, then by all means go ahead!
3. Vintage Art
Whether it is the perfect print on Etsy or Grandma's oil painting, adding art is a great way to tie together a space. However, make sure whatever you choose fits the theme of your room.
If it doesn't, not only will it look out of place, but it might end up clashing with other pieces in the room.  Keep that in mind when choosing both modern and vintage decor.
4. Color
As previously mentioned, color is quite important when decorating a home. Vintage colors come in just about every hue imaginable, so it can be difficult to decide on just one at times!
5. Mirrors
Mirrors are a great way to make a room look bigger and brighter, but they also add warmth, creating the illusion of more layers and depth.  Try placing them behind an arrangement of flowers, by the fireplace, or over your mantle for instant sophistication.
6. Geometric Patterns & Shapes
There's no need to go overboard with patterns and shapes (unless that's what you're going for).  Keeping it simple is key!
7. Textiles
Although fabric is generally associated with upholstery, don't forget about window treatments as well.  Curtain panels can be just as unique as any other piece in your home if you know where to look!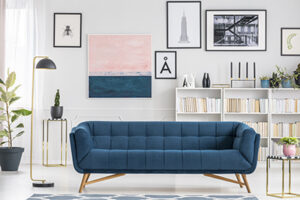 8. Vintage Finds
Is there anything better than discovering a little diamond in the rough? Reclaimed barn wood, copper piping, old windows…there are so many options to choose from! Search local resale shops, salvage yards, and flea markets for unique vintage items.
9. Books
Vintage books are a wonderful way to incorporate both color and texture into your home.  Not only do they come in an array of shapes and sizes, but the bindings themselves can add character depending on their age and style.
1o. Antiques
Whether they're modern or vintage antiques is up for debate, but that's not the point. What matters is that antiques often provide interesting details that you just won't find elsewhere.
Whether it's a funky mid-century lamp base or an ornate armoire, there's bound to be something in an antique shop (or even at your local flea market!) that will catch your eye –and will look great in your home too!
Modernizing Your Vintage Space
Modernity can elevate a vintage room and bring the best of both styles to life.
Use Modern To Your Advantage
When mixing vintage and modern decor together several tricks can help out. One of which is using modern structures as the foundation under the vintage décor.
You can use concrete, brick, or wood-like floors, walls, or partitions. These structures will provide an instant foundation for your beautiful antique furniture pieces to rest upon. They also make excellent dividers between rooms like a kitchen and dining room or living room.
Use Modern Furnishings
The use of modern pieces is another idea that can help when mixing vintage decor with contemporary design. A glass table and modern chairs can work beautifully with a vintage chandelier of gold or silver.
A glass table also makes it easy to place underneath your antique furniture pieces and get the most out of the light reflected from them. If you have carpets, be sure they are neutral in color so as not to compete with the more vibrant colors provided by your ornate antiques.
Here is one more idea for using modern decorating items: Use spruce upholstery on your antique chairs such as modern printed pillows. They will provide character while creating an eye-pleasing contrast between old and new styles.
Combine Your Decorating Style
There are several ways to mix vintage and modern decorating styles if you don't want to change your color scheme or add new pieces to the existing decor.
One of which is to let your vintage pieces be the centerpieces and use modern accessories with them around or under them. You can try adding a modern rug underneath a beautiful antique table, for example.
If you are interested in changing the color scheme of your room, try adding some modern wall art. Depending on whether you prefer bright colors to make your vintage interiors pop or want something more neutral, there are plenty of options out there that will work great.
For example, this wonderful abstract painting provides a vibrant splash of color against plain white walls. I'm sure it would look perfect with an antique dresser.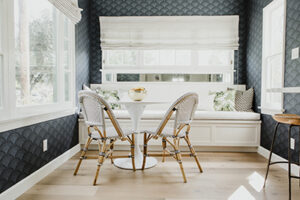 Add Modern Accessories Into Your Vintage Home Decorating Ideas
If all else fails, try adding some key modern accessories into your existing vintage home décor. They don't have to clash with your current style as long as they are balanced well and help tie everything together in the end.
Adding a few small modern touches like this will make your vintage furniture pop and create a nice flow between old and new styles throughout the interior.
Some great modern accessories for your vintage home decor are:
Large Statement Artwork
Modern art can turn almost any room into vintage, elegant, and classy.
Modern Wall Decorations
There are so many types of modern artwork available online these days! Just pick what speaks to you most.
Modern Side Tables
Get a sleek modern table to place next to your vintage sofa.
Modern Chairs
Choose a modern chair that will complement your existing furniture and bring everything together.
Lanterns/Lamps/Lighting Fixtures
Adding some modern lighting fixtures like this hanging lamp or lanterns will make your vintage home decor feel modern
Modern Curtains/Drapery
Or even just to modernize your windows, you can add some curtains or drapes. It might be a little step but it can make a big difference.
Modern Rugs
Adding a modern rug under your antique tables and chairs will tie everything together. Combined with natural light, they create a beautiful contrast.
Final Thoughts
If you are not sure what is trending right now and how to combine vintage and modern home décor, all you need to do is check out Pinterest. As long as your vintage items blend seamlessly and look good in the end, you can't go wrong!
Just play around with different ideas until you find something that works for your space. Lastly, remember that no two homes are ever alike and there's no rule book on how to decorate them – just follow your instincts and do what feels right for you!
Remember, there are no rules when it comes to decorating your home! Whether you choose modern or vintage decor, just make sure it's something you love because this will show in your home.