Furniture Pieces Your Bedroom Needs
Recently, I've become interested in how to create a bedroom that feels like home. As you can imagine, it's difficult for me to advise on the subject because a bedroom is so personal to the owner. However, in this article, I will try to provide some general ideas about 5 pieces everyone should have in their bedrooms.
It's also difficult because the concept of "home" means something different to each person. Some people want to feel relaxed and comfortable while others want an expression of themselves through what they display in their room.
So, what are five pieces your bedroom should have? Some of the most important furniture pieces for your bedroom include a bed, lighting, a dresser, shelves and bookshelves, and a rug. A desk can also be a valuable piece of bedroom furniture! 
What I hope to do with this article is provide insight into what "things" or "pieces" and also, what "qualities" your bedroom should have so that you can make it feel more like you or at least help you realize what direction you'd like your room to go in.
Of course, if none of these options appeal to you, feel free to ignore them and just do whatever you want. I am always a champion of that!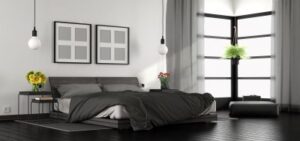 Furniture To Have In Your Bedroom
As we begin, always remember that you ultimately want all pieces to contribute to a sense of personality and relaxation.
When choosing furniture for your bedroom, you want it to be functional. However, functionality is not always the most important thing when it comes to decorating your room. Sure, having functional furniture that matches perfectly will make your space look clean and organized.
However, if you don't love the way it looks then there's no point in having it in your room. Of course, this isn't saying furniture doesn't need to serve a function, but this should not be the only consideration.
Bed
Your bed, basically the focal point of any bedroom, should be cozy and comfortable since you'll probably spend more time on it than anything else in the room.
It may seem obvious but many people ignore comfort when they purchase a bed. If you don't like to sleep on your mattress or if your pillows aren't comfortable, you should invest in a new one. Nothing is more annoying than waking up feeling less rested because of a bed that doesn't suit your preferences.
Lighting
Speaking of things that may seem obvious but are often ignored, lighting can be an important part of decorating any room. Whether you prefer lamps, overhead lighting, candles, or something else entirely, it's always good to have multiple options.
Having the right lighting will help create the desired ambiance for any given moment so it's important to have simple and convenient access to light whenever needed. Beyond these basics which every bedroom needs, here are some other pieces that I think are important to have in any room.
If you wish to add overhead lighting to your bedroom, it may be best to consider working with a local expert.
Dresser
Having a place to put your clothes will not only keep your bedroom tidy but also make it look more complete. Even if you don't have very many clothes, a dresser is still helpful since it provides an organized space where you can store items like blankets or towels.
There's no reason not to have one in your room unless you don't see yourself using one shortly -which is unlikely since they're so useful!
Shelves & Bookshelves
Wall space is quite often underused and having some sort of shelf with things on it can be beneficial for decorating purposes or just for keeping your stuff off the floor. If you don't have any wall space or want to have a more creative area for displaying your things, bookshelves are a great alternative.
Just make sure they're not so tall that they block the view from your bed, though this isn't usually an issue since bookshelves tend to be pretty short.
Rug
Believe it or not, rugs can have a big impact on how inviting and comfortable a room feels. The main reason I mention them here is that there's no point in having a rug if the floor underneath it is cold and hard.
If you choose a rug that suits your needs then you'll create an extra element of warmth that makes people want to spend time in your room. And if spending time in your room is the goal, comfort should always come first.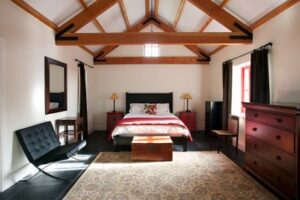 Optional: Desk
Having a desk or table which you can use for studying, writing, web browsing, or even playing games helps make any bedroom more versatile. This isn't to say that it needs to be the only thing you do when you're in your room but have someplace comfy and quiet (and well-lit if you need it).
This allows you to escape from distractions making having an otherwise simple bedroom work for many occasions. As I'm sure most readers will notice by now, all of these suggestions are relatively simple.
If there's one word I'd use to describe what I think every bedroom should have, especially if this is one's first time decorating a room, it's simple.
Don't make your bedroom too complicated because you want to buy all of the most expensive pieces – instead, consider how every item will benefit the user and go from there.
5 Qualities Your Bedroom Should Have
Outside of bedroom furniture, here are some qualities to make sure your bedroom has.
Memories And Inspiration
The first quality I think every bedroom should have is a memory of something that means a lot to you or inspires you on some level. This can be almost anything but I recommend something that you're passionate about.
The reason for this is that it's important to surround yourself with things that positively influence your life and having something personal in your bedroom reminds you of who you are when you wake up each day.
For example, if writing is really important to you and inspires you, display some pens on your desk because seeing them will make you want to pick them up and write.
Or maybe there's an element of nature that's important to you so put up a landscape painting in your room. For me, it would probably be photos of friends and family, which are hung in various places in my bedroom.
Whether it's an old book or painting that you have on your wall or a small piece of art that one of your friends did for you, basing the decoration around something personal sets the tone for how you want to feel when in your room.
Things You Love
The next common quality that all bedrooms should have is some element of the things you love. Again, this can be anything and it's important to stress that you don't necessarily need to spend a ton of money on anything just because you like the item.
For example, if I appreciate good food then maybe I'd put up a list of my favorite restaurants in town or if I'm into music maybe I'd buy an inexpensive guitar and hang it on the wall.
If you love flowers, put a vase full in your room so you can look at them when you wake up and before going to bed. Or maybe there's an artist or band whose work speaks to you so find a piece or album cover that reminds you of how special they are and hang it up somewhere for everyone to see.
Your Aesthetic
The third quality that I think all bedrooms should have is an aesthetic that speaks to you and supports your happiness. For example, my friend has a bedroom with blue walls and white furniture because she knows the calming feeling it gives her when looking at it.
And since she lives in California where winter days are few and far between, she'll often sleep with the window wide open during those months so she can hear the crickets chirping outside which reminds her of summers at home (in Canada).
This tactic encompasses everything from what your bedding looks like on your bed to how many pillows are on top of it. Everything about the way you dress, decor, and arrange your living area should represent who you are in some way.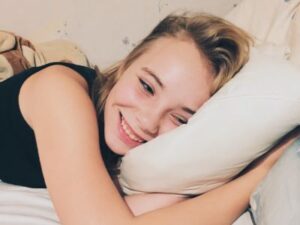 Highlights You
The fourth quality is one that I'd consider to be the most important because it's what makes your personal space worth living in or at least livable.
It all boils down to something I've heard many times before but never fully understood until making this list: "you have to love yourself". If you don't, there's no reason to have a bedroom befitting of someone who does.
Make sure everything about your room shows off how awesome you are without being too overt or aggressive about it. Even if they're not outwardly great qualities, they're still worth showing off in some capacity.
Your Happy Place
Of course, the most important thing you can do is make your bedroom a happy place where you can truly relax and be yourself. If there's a hobby or activity that always makes you happy, incorporate it!
Experiment with these tips to see what fits your personality the best, then once you find something that works, stick to it!