5 Great Types of Window Treatments
So often, we don't think much about our windows. We might dress them up for the holidays with some greenery or maybe put up a holiday curtain. Otherwise, they are often forgotten about. Windows can be so much more than just an afterthought, though! I realized this once I started doing some research and gathering tons of ideas.
My home style is modern so my windows needed to match. If you too have neglected your windows but are ready for a change then I'm here to help! So today I'm going to share some ideas that will make your windows stand out.
First, let's start with 5 modern ways to dress your windows:
Extend the curtain rod above the window
Layer curtains in an interesting way
Use a sheer curtain
Choose a bold pattern or texture
Go with a sleek roller shade
Don't worry, I will go more in-depth with each of these ideas. I will also cover the top trending curtain styles right now so you're fully prepared when it comes time! Stay tuned to the end for a few common questions when it comes to windows.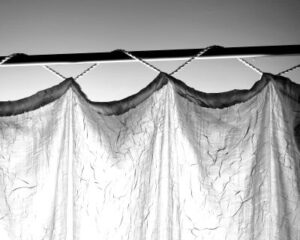 1. Extending the Curtain Rod
This is the first and most important tip because you can do it with your existing curtains! With this simple trick, you can create dimensions in your window treatment. The great thing about this idea is that it works with any decor style since it doesn't add much cost nor does it take up much time.
Here's how to do it: when you are ready for curtain shopping, purchase a rod that is about 5-6 inches longer than the window itself. Now, before you hang your curtains, extend the rod up above the window. This will give the illusion that your window is taller and make the room appear larger.
This simple trick will instantly give a more modern feel to the room. This style of window treatment is especially perfect for small rooms and it will help to enlarge the space. In some cases, with really large windows or tall ceilings, you may have to get custom-made curtains.
2. Layering Curtains
You know I love good layering and that goes for curtains as well! Layers can be so much fun especially when you interestingly layer them. This style of window dressing is very popular right now and it is a great way to add personality to any room.
There are so many ways that you can layer your curtains but I'm going to share a few of my favorite ideas:
mix sheer and solid curtains
use different types of fabrics
add a tie like a chunky rope tassel
If you're wanting to achieve a layered look but don't want to spend too much money, then try using a sheer curtain under a thicker one. This way you can still see outside but your main curtains will add some extra personality.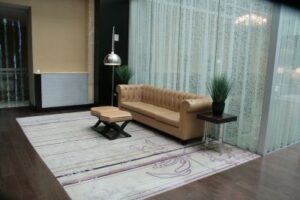 3. Using Sheer Curtains
Sheer curtains are a great way to dress up any window and they come in so many different styles! They are perfect for adding light and airiness to a room.
If you're wanting to add a sheer curtain, there are a few things you should keep in mind: sheers come in different levels of transparency, so use that to your advantage. Semi-sheers are perfect for privacy but also can let in a bit of light.
An extra full sheer curtain will give you the most privacy and it's good for any room since it lets in almost no light whatsoever.
A sheer white or light grey curtain will also match any room. If you don't want your window treatments to be distracting, sheer is the way to go!
4. Choosing a Bold Pattern or Texture
When most people think of window treatments, they think of a standard solid color or maybe a small pattern. But why not go bold with your choice? This is a great way to add a modern touch to your room and it will make your windows stand out.
There are so many different patterns and textures to choose from. Check online for some ideas and choose something that will complement the rest of your room. A few ideas for a modern take are:
geometric
thick velvet
large floral
thin stripes
bold colors
Remember that if you are wanting to make a statement with your window curtains, to balance the rest of the room. Keep most of the other decor neutral so it doesn't take away from your focal point, which in this case are the windows! It's okay to have a few other decorations or furniture that are bold, but again, just keep it balanced!
5. Choosing a Roller Shade
Roller shades are becoming increasingly popular in all home styles. You can use them for almost any type of window treatment and they are extremely versatile.
They're great because you don't have to worry about rods or hardware since it's up and out of the way. It's also a quick fix if you want privacy but still want some light coming in through your windows.
It is important to remember that roller shades come in a variety of fabrics and textures. You can find them in sheer, light-filtering, room darkening, and blackout fabrics.
I like that roller shades give you privacy and style while being sleek and unnoticeable. So these types of window coverings are especially great for minimalists.
Things To Remember When Dressing a Window
Now that I've covered the best ways to dress your windows in a modern style, let's go over a few other important things to know.
Window Shape
Not all window shapes are created equal and that's why it's important to know the shape of your window before you go shopping for curtains. For example, if you have a round window, you're going to have a harder time finding the right curtain than someone who has a rectangular window.
Window Size
It's also important to make sure your window treatment fits the window well. It's always good to measure your windows before going out and buying something, making sure it will fit.
Window Placement
Most of us want our windows to be a beautiful focal point in our home, but this can pose a problem if you have a lot of windows in one room. You don't want to overwhelm your room or windows by having too many curtains. This is where some creative thinking comes into play.
Maybe use a sheer curtain as your main window treatment and then add a bold patterned roller shade for the other windows. Play around with different combinations until you find something that you love!
What Makes a Style Modern?
A lot of people think modern style is just about clean lines and geometric shapes, but there's so much more to it than that. I would define modern as "simplified" or "minimalist".
This means that designers try to keep their designs simple and clutter-free. So you won't find too much ornate decoration here, but you will find a lot of sleek elements and open spaces.
Modern style is all about making a statement with your space, but not overwhelming it. So when shopping for modern window coverings, look for:
clean lines
geometric shapes
simple patterns
bold colors
thin textures
minimalistic details
Again, remember to keep the other decor in your room minimal so as not to overshadow your beautiful new window treatments!
What Window Treatments Are Currently Trending?
Although I believe in buying and decorating in the styles you love, it's nice to know what is trending. I suggest keeping most of your decor and window coverings neutral so they can easily evolve with changing trends.
Here are some of the top styles currently trending with window treatments:
light, sheer curtains
linen curtains
blackout curtains
roller shades
floor length drapes
Remember, you don't have to stick to just these trends. If there's a style that you love that isn't on this list, go for it! As long as you love it and think it will make your space look beautiful, then that's all that matters.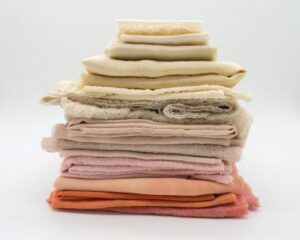 How To Dress Windows On A Budget?
If you're on a tight budget but still want to dress your windows, don't worry! There's always something for everyone and every budget. You can find some really pretty and affordable options at your local department store, home improvement store, or on the internet.
Here are some of my favorite ways to save money:
Look for coupons and deals/only shop sales
Buy your fabric and make your curtains
Shop at department stores for ready-made curtains or blinds that can be customized to fit your windows (some will even come pre-assembled saving you the hassle!)
Shop at thrift stores or garage sales for unique window treatments that will be one of a kind!
The bottom line is, don't be afraid to get creative when it comes to dressing your windows on a budget. With a little bit of effort, you can find something that will fit your style and your wallet.
So there you have it! Five modern ways to dress your windows. Remember to not overpower your windows or room with your treatments. Dressing your windows can add a finishing touch to your room and it's a great way to show a bit of personality. Good luck and happy decorating!