9 Bathroom Decor Tips From a Professional
When it came time to decorate our new home a few years ago, the bathroom was the last room I did. Why? Because I truly felt like it was the least important. I also didn't even know where to begin decorating a bathroom! Now I know that a well-decorated bathroom can make quite an impact. It's just as important as any other room in your home!
As I was gathering ideas and inspiration for how to decorate a bathroom, I found so many awesome tips and hacks! After implementing these, I love my bathroom and get compliments all the time on it.
So, what are some tips for decorating your bathroom like a professional designer? Nine of the best tips for professional bathroom decor include:
Spend time planning and measuring.
Decide on and stick with a color palette.
Start with the essentials like the shower curtain and rug.
Don't forget about lighting especially in small or window-less bathrooms.
Make a statement with the mirror.
Include simple cohesive storage solutions.
Invest in good-quality art pieces.
If possible, include a plant or two.
Keep it simple and uncluttered.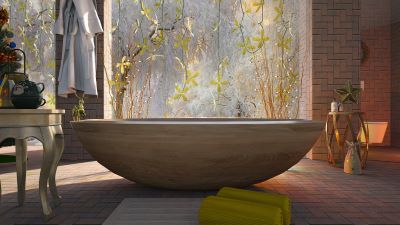 These 9 tips will give you a great starting point to start decorating your bathroom! These aren't meant to be hard rules, so feel free to add your personality to your design. If you'd like more guidance on how to implement these tips, then keep reading!
Preparation Is Everything
One of the first things you need to do before decorating a bathroom is proper planning and measuring. You will want to have a mostly clear idea of what you want your final design to look like. Going through Pinterest and creating a style board is a great place to start.
Measuring is important because you want to ensure that your ideas will fit within the bathroom space. You don't want to waste time and money on decor that won't even fit in the room! Keep these measurements handy while you are shopping.
Setting the Tone
Now that you have a clear idea of the style direction you're going with, you should also know which colors you will be using. This will help you narrow and determine the rest of the items and accessories you buy. If you are starting with existing tile and finishings then you may need to base your colors off those.
To keep things simple, I would suggest trying to stick with 3 main colors and a neutral to keep them unified. Here are a few examples:
If your neutral color is black, then you can go with deep green and gold.
If your neutral color is tan, then you can go with blues and soft reds.
If your neutral color is grey, then you can go with yellows and pinks.
Of course, anything can go with white if that's what you want for your neutral.
Get The Essentials First
It's typically the best idea to get your highest impact items first and/or the items that won't offer as many choices. Since the shower curtain is a large item of focus, you may want to find the one you like first and work everything else around it. The great part is that a shower curtain is an inexpensive thing to replace later if you need to.
Many people like to get one in their chosen neutral so it's not distracting. However, this could also be where you go bold and add some personality. The choice is yours! Just make sure to keep the packaging and receipt in case it ends up not looking right when everything is done.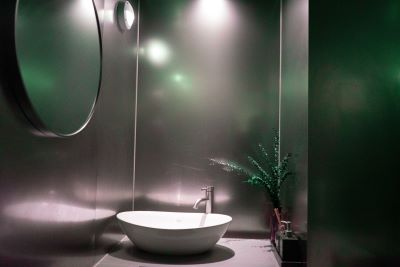 Lighting Is Everything
Since most of us get ready in our bathroom, it's so important to have great lighting. If you have a window or two and lots of natural light then you are lucky! In that case, don't worry about getting large expensive lighting. You can still add a lot of style and impact by getting lighting that has some personality.
If you have a smaller bathroom without a lot of natural light, you may want to invest in nice lighting fixtures! Make sure they give off the light temperature you prefer and are bright enough to give life to the room. Choosing light colors for your walls and bright lighting will make your bathroom look much bigger.
Mirror Mirror On The Wall
Right after lighting, we have the next most important aspect of the bathroom: the mirrors! If you only have the space for one mirror over the sink, try opting for a statement one! You can go for a framed one, a different shape, or a more creative finish.
If you have room for multiple mirrors, then choose one statement mirror and the others matching or similar. You will want to make sure all the mirrors in your bathroom complement each other if they are different.
Storage: Functional But Pretty
Storage is something we simply can't forgo in our bathroom. But that doesn't mean you can't have it blend in seamlessly with your design. There are so many cute and functional storage options out there today. You can get open shelving or add baskets to the cabinets for towels and personal items.
When you don't have proper storage, your overall design will suffer. If your counter is covered with things and your towels are overstuffed on a shelf, your bathroom will look messy. Make sure everything has a home and that it doesn't stand out.
Choosing Art
A great way to add interest to your bathroom is by putting a couple of things on the wall. You don't want to put too much though or it will look busy and unplanned. I suggest going with minimalist art pieces that are framed. If you need to tie in more color, this is a great place to do it! Stay away from wall decals and cheap canvas hangings that won't last long with humidity.
Art that has natural elements is always a great choice because it matches the surrounding. If you are not sold on this idea, consider abstract art. It can go with any color and add a bit of interest to the place.
Plants In The Bathroom
I know it may sound weird but I swear by this one! I wasn't sold on the idea at first until I tried it and fell in love. Plants add such a tangible interest to your bathroom. They also add a fresh dose of color. If you are using real plants (which I suggest) then they have a lot of benefits too! They can help purify your air, help diffuse humidity, and even help with allergies. Try adding any of these plants to your bathroom:
Aloe Vera
Spider
Peace Lilly
Golden Pothos

Keep It Simple
No matter your style or color scheme, the trick to a professional-looking bathroom is simplicity. Simple doesn't mean boring or that everything has to be white and grey. You can add pops of color but keep them to a minimum.
The same goes for decor pieces. Try to stick with one or two patterns and keep everything else solid colored. A good design means everything is intentional. So only buy and place items that you love and are functional.
These 9 tips will take you far in your design journey but I also realize it only hits the surface in some cases. Let's cover a few additional questions you may have about decorating your bathroom!
How To Style Bathroom Shelves
When it comes to styling bathroom shelving, the possibilities are endless. Add in one or two small things that are maybe a little more quirky or show your personality. Keep it balanced with the rule of thirds. With shelves, less is usually best. So be intentional and mix decor and functional things in a creative way!
What Is Trending Decor Right Now?
The most popular bathroom design ideas right now include:
Natural Elements Like Wood and Real Plants
Statement Tiles like
Copper and Gold Accents
Open Shelves
Unique Mirrors and Statement Lighting
It's important to note that trends do come and go. If you don't love what's currently trending, then do your own thing! If you want to make a design that will last for years, then stick with classic and simple decor. Also, neutrals will never be out of style so that is always safe too.
Should I Hire An Interior Designer?
This is a hard one to answer because it depends on your situation. If you are doing a major remodel or starting from scratch with a new home then it may be worth it to hire a professional. Interior designers are experts and know all the right things to do. I suggest getting at least 3 estimates for your space before you make your decision. That way, you can pick the best one for you!
However, if you are just adding some life to your bathroom or updating for the times, you can probably handle it! If you have the time and want to save money, then I would suggest doing it on your own. You can always ask a friend to help and bounce ideas off of as well!
Wow, we covered a lot in this article and I hope it was helpful to you! The key thing to remember is that you are your best designer. No one knows your space better than you do so trust that instinct and create something that you love! Start with these 9 tips and then customize it from there, good luck!