How to Make Your Living Room More Inviting
If you are trying to make your living room more inviting, there is no need to break the bank. It is possible to give your living room a nice touch without spending too much money or having it take hours of work. The most important thing about decorating your space is being creative with what you have. Think about furniture placement, pairing items together that are not usual, and adding special touches that will wow guests when they visit.
Here are some ideas for making your living room more inviting: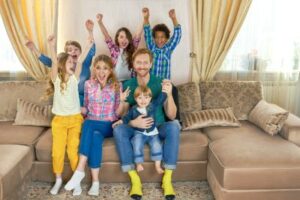 1. Introduce the Living Room As the Gathering Place
The living room is a space that can be enjoyed by everyone. It's an open space where people can enjoy each other's company and relax. However, there are some things we want to do in our living rooms that might make others feel uncomfortable, such as watching TV with us or sharing a meal at our dining table.
Suggestions include inviting your guests to use this area often so they get used to it, making them feel comfortable in their surroundings, and encouraging those who don't know how to interact well with others
2. Consider a Custom-Built Home Bar
Having a well-stocked alcohol cabinet nearby means you always have something available to serve your guests. Your bar will be a place where you and your guests can gather for drinks, games, and conversation.
3. Incorporate Comfortable Seating
You want to make sure that people who come over feel at ease in the space. To do this, make sure there is plenty of comfortable seating available so everyone can sit near one another and talk easily. It may seem obvious, but some homes don't have enough chairs if someone wants to sit down after talking.
A good rule of thumb is to have enough seating for at least one-third more than the number of guests you expect. If you have a large number of guests, it's also nice to put additional chairs in other parts of the home so no one feels left out.
4. Display Knickknacks In Your Living Room
The things that represent who we are and what is important to us can be displayed proudly in our homes. Bringing them into the living space will give your guests insight into your interests and passions outside of work or family life.
Try putting items on display throughout the room, such as unique decorative pieces that tell stories about trips you've taken or places where your family goes regularly. You can even hang fun photos or artwork with personal significance on bulletin boards near seating areas. This way, guests get an insider glimpse into who you are without having to pry.
5. Give Them Room to Move
If your friends are anything like mine, they aren't going to want to sit in a corner or at their dining table all night. To make sure people can circulate through your home with ease, give them plenty of space. There should be room on the sofa for an extra person or two on either end, and there should be enough chairs around the coffee table that everyone has somewhere comfortable to sit and talk.
6. Use Lighting Sparingly
Lighting is important for ambiance but too much can create discomfort when trying to hang out with friends. It will almost always feel uncomfortable if bright lights are shining in your guests' eyes. 
Keep lights low to be polite but set up enough light that people can see well enough to talk and enjoy themselves by creating a comfortable and inviting environment with a cozier feel.
7. Make Your Dining Room Into a Study
If you love having dinner parties, consider turning the extra dining space you have into an entertainment or study area so people aren't forced to sit at the table all evening. Put out bar stools or use folding chairs so people can sit on the sides of the dining table to keep it from feeling too formal.
You can even turn one end of your dining table into a bar area, if you have an extra cabinet available, for extra seating. If possible, leave some room on any side for guests to move around easily.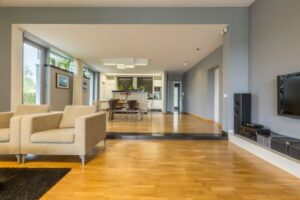 8. Find a Good Balance Between Your
Designers will often talk about how you should keep two spaces in your home that are dedicated as entertaining areas: the living room and the dining room. These spaces need to be set up for socializing just as much as they're used for eating meals.
If people only eat at their table, they won't want to use it for anything other than dining. The same goes if they sit on one side of their sofa or the other – it should feel open so guests don't feel trapped in either area. Separating these spaces will help liven up your living room and offer a better space for guests to gather and talk.
General Tips for Living Room Design
Making a more inviting living room doesn't have to be complicated. If you are looking for something simple to liven up a space, here are some basic ideas and general tips to help transform your space!
Transform Unique Items
While many people would throw away old things in their homes, turning them into something new can significantly change the appearance of a space by giving it an entirely fresh look. Look around at what you have and see if there is anything that you can transform into something else.
Paint
Paint is inexpensive, but it can make a huge difference in the way a room looks. A fresh coat of paint on the walls or even certain pieces of furniture like chairs or end tables can completely change the appearance of living space for very little money.
If you have items around your home that you aren't attached to, painting them a bright color may be just what they need to liven up a room.
Add More Lighting
One of the first things people look at when entering a room is lighting. Make sure all areas have soft light from floor lamps, table lamps, chandeliers, etc. so there are no dark corners and everyone can see clearly.
Add More Texture with Pillows and Rugs
Using pillows, rugs, blankets, and throws in your space adds instant warmth and comfort. They can transform the appearance of furniture instantly. You'll be surprised at how a little texture can play off so many design styles.
Colorful Accessories
Adding bright-colored accessories is a fun way to bring more energy into your room without spending too much time or money. Different textures like glass, metal, wood, and stone add interest to this simple idea that anyone can do anywhere in their home.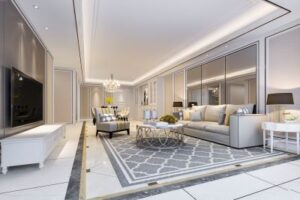 Mirrors
Mirrors are an easy way to make a room seem bigger by reflecting light around the room and giving the illusion of windows where there aren't any. It's a simple way to create the perception of space. Mirrors are also an easy way to add light and brightness to small spaces where you may not have a lot of natural light.
Have Fun With Living Room Decor
Creating a more inviting living room doesn't have to be complicated or expensive. This can be done in just a few hours, allowing you to have fun styling this space to your liking. While adding new accessories is easy, changing up decor can take some time. Keep these ideas in mind if you don't feel like spending money on items but want to change things around for a fresh look

Thanks for reading! I hope you enjoyed these 8 ideas to make your living room more inviting, and that you'll incorporate them into your own living space. Now go out there and redecorate!