How to Create a Timeless Kitchen
The thing is that there are easy and fun ways to make the most popular area of your house a place that is beautiful and enjoyable for years and years to come. Kitchens have changed more than any other room in the home throughout history.
They used to be considered an afterthought and were very small, windowless rooms that couldn't fit much furniture or appliances inside them. That has long since changed, and now a kitchen is a place that is supposed to help us feel more comfortable in our own homes. It's where we prepare meals, enjoy dinner with family and friends – but most importantly, it is supposed to be a place where we can find comfort.
Kitchens in older homes tend to have more character and charm than the kitchens of new homes. This is because they were built when craftsmanship was still valued, appliances weren't designed with sleek lines and square corners, and there wasn't such a thing as "cookie-cutter" architecture.
A timeless kitchen isn't necessarily just one that has been around for 50-75 years or longer; it's about achieving an elegant style with high-quality materials that are likely to withstand the test of time. The kitchen should be timeless because when people walk into your house they should feel like they are walking into YOUR house and not some museum exhibit of "2007-2015".
If you're thinking about remodeling your home and updating your space, don't think that updating the one area of the house that will bring you countless hours of satisfaction and comfort is a waste of money. Many times, people update their kitchens as part of an overall room remodel, and because the kitchen is such a focal point it can drastically alter the entire look and feel of your home – making it feel new again.
Kitchen trends come and go, but a timeless kitchen is all you need for years to come. Here are 9 ways to make your kitchen feel current without totally ruining it next year when that "trend" is over.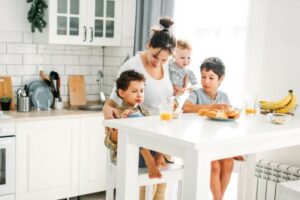 1. Keep the Cabinets White
White cabinets may not be trendy anymore, but they will always look fresh and clean in any space. If you're stuck on using them, never fear! Try adding dark hardware or stain-resistant paint to give them some added staying power.
2. Use Appliances Sparingly
If you find yourself buying new appliances every few years for the sake of keeping up with the latest trend, consider re-thinking this strategy.
Buying new appliances means spending more than what you'd like to spend, and you'll end up not using those appliances as your style changes. If you MUST change your appliance color, use a sharpie or "magic eraser" to give them some added pizzazz.
3. Keep the Hardware Neutral
If you're having trouble committing to white cabinets (and who could blame you?) keep your hardware neutral so that it's easier for you to play around with cabinet colors without having to worry about coordinating with too many other pieces in your kitchen at once.
Paint color, knobs/pulls/handles, and spice racks can all be easily changed without much hassle. For extra credit: paint over the hardware instead of buying new! This will save you money and guarantee that they never go out of style.
4. Pull in a Trend With Your Appliances
Do you HAVE to have the new "trendy" appliance color? Then use it sparingly! This can be done by keeping all other elements neutral and pulling in the one hint of trendy color to an element that everyone uses every day: your coffee maker, blender, or knife block. Just a hint will do!
5. Keep it Simple, Stupid! (K.I.S.S.)
In this case, less is more! Don't get overwhelmed by trends and add too many pieces to your kitchen at once if they're different from what you currently have going on in there already- especially if those pieces are competing for attention with each other.
Instead, use your neutral "anchor" pieces to pull in trendy pieces that aren't too far of a departure from the current state of your kitchen. This will help you feel like it's always evolving without leaving your comfort zone or spending too much money!
6. Mix Metals
Are you sick of stainless steel appliances? Then consider mixing up different metal elements to play with color and texture! This is an easy way to keep your kitchen feeling fresh without having to jump on any particular bandwagon.
7. Play Around With Texture
Remember – this trend is about changing things up, not getting rid of all of your old furniture/appliances/artwork/pillows at once! If you're already looking for a reason to get rid of your old spice rack or trivet, consider changing up their material to add a little variety in there!
8. Try Out Different Paint Colors
Wanting to keep things neutral and clean? Make sure any new paint color you try doesn't clash with your current white cabinets by trying the color out on the wall first. The general rule of thumb is that lighter colors will open up space while darker colors tend to close it in.
Just remember: never go bigger than a quart at Home Depot! It may not seem like a lot at first, but you will end up with tons leftover! Also, if painting isn't an option for whatever reason (no time, no money, etc.), try painting just an accent wall in a lighter color. This is the easiest way to quickly change everything up without doing much work at all!
9. Flooring Options
Are you sick of your hardwoods? Jarring against all that white with gray or tan carpeting? Try using different flooring elements to ground your space and add some new style pieces to mix things up!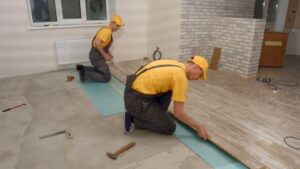 What about Specific Timeless Styles?
As kitchens became more integral parts of homes, they began to take on their own personalities with different looks for different people's tastes and needs. However, almost all of these kitchens will never go out of style because they're practical workspaces first and foremost (except for maybe two or three items mentioned below).
If you want your kitchen to have a certain style and class because of a certain era or have a certain vibe to it, try these ideas:
The '90s Kitchen
The appliances are all stainless steel, there's a TV oven combo or corner touch screen built into the wall, and you should probably go ahead and replace that refrigerator with a futuristic one that talks to you because who needs a boring fridge?
The '80s Kitchen
There is neon lighting everywhere from under cabinet lights to sconces on either side of the fireplace. All appliances must be red or avocado-colored or this kitchen will not work as well as it should.
The Colonial Kitchen
White cabinetry, white subway tile backsplash, white granite countertops with a center island big enough for family dinners.
No other colors besides bright white are allowed in this room – even if you plan on painting the walls another color, you must do it after all of your furniture is moved in because there can be no distractions from the room's main feature which is the beautiful tiled backsplash.
The Old World Kitchen
The cabinets are dark wood and so is most of the flooring. There is a large farmhouse sink with copper or iron fixtures. All appliances will be white to match each other, however, they should still coordinate well with the overall design scheme.
The Victorian Kitchen
Dark hardwood floors throughout, dark cabinets that reach to the ceiling above at least ten feet high, marble or slate countertops for an elegant look that brings out any type of china pattern you're using as dishes, tea kettle included.
The 1950s Kitchen
The cabinets are white or avocado and shutters everywhere, you might as well shut off the lights because why does it need so much space for appliances when there's only one person living here? Or maybe there's a built-in china cabinet where your dining room table should be.
Finish it off with black appliances and an enormous wall-sized brick pattern backsplash that has tiny sparkles running throughout. You'll never want to leave this kitchen!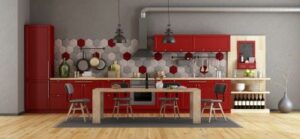 The 1970s Kitchen
Light and dark mauve-colored cabinets with wood paneling on all of them, pink countertops, orange appliances including the stove and dishwasher. Wallpaper borders your ceiling on all sides of the room – especially if you have curtains hanging down from the ceiling.
The Triple Decker Kitchen
There is a kitchen on top of another kitchen (the top one has everything you need to cook for an army) and there's also a breakfast nook that takes up half of the dining room underneath it all.
Final Thoughts
Your kitchen is a focal point in your house, and honestly, you may have thought that it would be too much of a chore to create the decor that would let your kitchen shine. Hopefully, these tips have shown you that a timeless kitchen is only an idea away. Have fun!