2022 Popular Kitchen Backsplash Trends
Kitchens are the heart of every home, and your home is certainly no exception. With that in mind, we have compiled a list of 7 top kitchen backsplash trends for 2022 to help you plan the design and renovation of your kitchen. When it comes to decorating and designing a kitchen, many people tend to focus on either one or the other – but never both simultaneously.
This can lead to an unbalanced, incomplete look that does not fully reflect who you are as a person or bring out the best in your home's interior design. The purpose of this article is to show how you can bridge this gap between cosmetic improvements and kitchen renovations.
Here are 7 top kitchen backsplash trends for 2022:
1. Metallic Kitchen Backsplash 
When you are looking for kitchen backsplash trends in 2022, metallic tiles are here to stay with their sleek look and feel that is sure to add class and sophistication to your home. They do not just come in the typical silver or gold color that you may be imagining either
. A metal backsplash can bring out a unique style with colors such as blue or green that you can't find in other material types. It is also a great idea to consider metal tiles for your kitchen backsplash if you already have metallic appliances or other accessories, as it will create the perfect fusion if the two are combined.
2. Glass Kitchen Backsplash 
Adding a glass backsplash to your kitchen can do wonders for spicing up the entire room's appearance and is no longer just limited to white color options. You can find them in an array of colors with frosted speckles throughout the tile itself.
This will allow you to choose between subtle and more bold looks depending on what you're going for. There is a lot of room for creativity with this type of backsplash as well, as the glass tile can be customized to have your name or initials on it along with other words or symbols.
3. Subway Tile Kitchen Backsplash 
Although subway tiles are not exactly 'new' anymore, they remain ever popular due to their timeless design. Subway tile backsplash suits any style of home, even modern ones with its simple yet eye-catching look, which creates depth within your kitchen. There are now tiles available in colors such as grey or beige.
This can help you to create an ambient feel throughout your kitchen and home. If you are looking for a more vibrant option, you can also find this type of tile with colored grout lines to match the color of your cabinet hardware or appliances.
4. Recycled Glass & Metal Kitchen Backsplash 
If you are looking to make a statement with your new kitchen backsplash but don't want anything too harsh, consider recycling glass for this purpose. This can be done by taking old wine or champagne bottles and cutting them into small pieces, which are then arranged onto the wall in a pattern of colors that will create an interesting and unique design.
Another option is to use metals such as aluminum cans if you are looking for something more bright and colorful. By choosing materials that are associated with everyday life, you will be able to personalize the entire look of your kitchen while also adding value to your home that other people can appreciate – even if they do not live with you!
Why not take advantage of the many advantages of both materials and create a truly unique backsplash design that nobody else has by adding metal sheets to certain areas with recycled glass tiles in between? This will make your kitchen stand out from the crowd no matter how high the competition is for this concept in 2022.
5. Double Sided Kitchen Backsplash 
If you are someone who likes to switch up their style every now again, then this aesthetic should be right up your alley as it allows you to do just that without having to spend more money on replacing the entire backsplash itself.
It's perfect for those who are indecisive or have trouble choosing between two kitchen backsplash designs. With this, you will be able to switch between the two or even place them side-by-side if they complement each other well.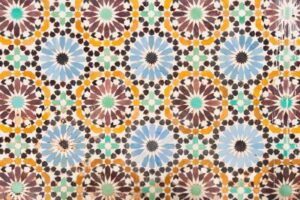 6. Mosaic Decorated Kitchen Backsplash 
If you prefer to go with a classic eye-catching design for your kitchen backsplash, then a mosaic-decorated backsplash would be an excellent option for you. This option like this one should be more than enough to get the job done without overdoing it. It is perfect for that rustic look with its many different colored tiles, which still manage to create a cohesive design together.
It is also incredibly easy to care for and maintain, as this type of material does not require any special cleaning substances to keep it looking new.
7. Wood Plank Inspired Kitchen Backsplash
Finally, we are left with this last upcoming trend of wood plank-inspired kitchen backsplashes, which are great in more ways than one. They can make your space feel warmer and cozier while also bringing in some unique elements in terms of your countertop items and appliances, thanks to how they can be mixed and matched with other styles.
Also, this is a more affordable option compared to other materials and may even be safer for those who have small children at home. It can also help out if you're someone who happens to be allergic to certain substances that are often found in tiles, such as glass or ceramic ones.
Choosing The Right Backsplash For Your Kitchen
It is important to choose the right backsplash for your kitchen. The backsplash is the wall that bookends your kitchen sink or stovetop.
How Much Time Do You Have?
First, you need to know how much work you are willing to put in. If you are willing to put in some sweat equity, there are many do-it-yourself tutorials online. However, if you are not interested in doing the installation yourself, it is best to call a professional installer to install your backsplash correctly.
You also need to take into account what kind of theme you are going for when choosing your backsplash. If your kitchen has already been renovated and has all new appliances, then you are free to choose whatever tile or wallpaper pleases you most.
However, if your current kitchen does not match your preferred style, it might make more sense to renovate the rest of the room first before remodeling the backsplash area with a different look than the rest of the room. This will create continuity through the space and create a more modern feel.
If you do not want to remodel all of your current kitchens, then it is best to choose a look that matches the current style of your room.
What Materials Will You Use?
Once you have decided on a design for your backsplash, you will need to determine what kind of tile or wallpaper should be used. Keep in mind that the tile needs to be durable enough to endure water splattering from daily use and should also be aesthetically pleasing too.
Although this seems obvious, many people forget that they are using their backsplash as decoration, so it should fit into that purpose well. Make sure when choosing a design that it is something you can see yourself being happy in the long term.
Once you have decided on the backsplash design, it's time to get to work! You can either do this yourself or hire a professional installer.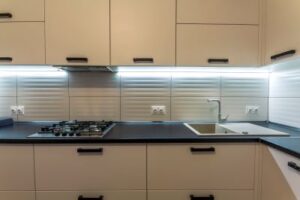 Cleaning Kitchen Backsplash Tiles
Once you have chosen the right kitchen backsplash that works for your space, follow these tips to keep it looking clean and new. When cleaning tiles, avoid using abrasive products as they may leave scratches on your tiles.
Instead, use a natural soap solution or even lemon juice if there are tough stains on your tile. These won't damage the surface of the tile, so you should be able to get away with using them more often than not.
Make sure to thoroughly rinse off all solutions after letting them sit for a few minutes so that there is no residue left behind, which will attract dirt over time, along with making your counters look dirty too quickly. This might also help prevent any chemical reactions that can damage your tile.
Wiping Down Kitchen Backsplash
After using the kitchen, simply use a damp cloth with water to wipe it down. This will help prevent any dirt buildup on the surface of the counter, which might make it look dirty over time without frequent cleaning.
If you're worried about water damage to your counters, then you should know that most modern counters are created to withstand splashes and spills, so there shouldn't be an issue as long as you dry it up right away.
You also don't want your tile backsplash areas to get too wet since this can allow mold or other substances to grow in those nooks and crannies, which will make them very difficult, if not impossible, to clean thoroughly without damaging the tile.