Mixing the Old & New: Mid-Century Modern Design
I have always loved Mid-Century Modern furniture, artwork, pottery, you name it! There is a lot to learn when falling in love with this style, as there are many famous Mid-Century artists who create the sought-after pieces. After much research, I was able to learn about Mid-Century and why it is the most popular style today.
What exactly is mid-century modern design? It is a mixture of mid-century design and modern design. Mid-century refers to the mid-twentieth century, which would put us between the years of 1950 and 1960. Today, mid-century modern style is considered trendy because of its simple shapes and forms that are very functional.
The mid 20th century saw an emergence of a new design that was focused on function and form. There is a lot to learn about this popular design, and you can easily incorporate mid-century pieces into your home by following a few simple tips.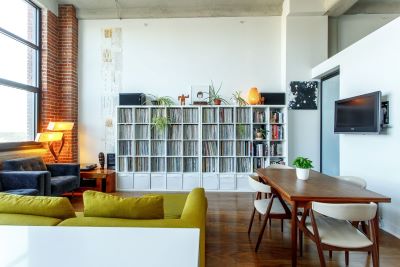 Mixing Old and New In Your Home Design
How does one incorporate mid-century modern design into their home? It is all about mixing the old with the new! You can start by bringing in a mid-century piece or two, and then adding in some modern pieces to create a cohesive look.
When it comes to mid-century design, you want to focus on simple shapes and forms. furniture is usually sleek and minimalistic, with clean lines and curves. Furniture is also often very comfortable, as chairs and sofas were designed for lounging.
You can add some mid-century flair to your home by using these simple tips:
Use a mid-century coffee table or side table in your living room
Add a mid-century lamp to your bedside table
Choose a mid-century chair or sofa for your living room
Use mid-century artwork or prints in your home
Add mid-century pottery to your décor
By using these tips, you can easily create a mid-century modern look in your home! Not only is mid-century modern design stylish and trendy, but it is also very comfortable and functional.
Where Did Mid-Century Design Come From?
Mid-century modern design refers to the furniture, art, and architecture from the mid 20th century. The style is often characterized by its simplicity, bright colors, and fun accents. Mid-century design is still popular today because of its focus on form and function over ornate embellishments.
What mid-century modern interior design did was pull together already existing developments in mid-century design throughout the 19th century. It emphasized the practicality of materials, often using newer plastics to replace more expensive natural materials like wood or marble. At the same time, it also increased production efficiency by designing furniture that used easily obtainable parts with fast assembly times.
Mid Century Modern Design Style Elements
One can think of mid-century modern style as an extension of earlier Art Deco style but incorporating other contemporary trends such as Bauhaus school's simple geometric forms and Scandinavian-inspired minimalist designs created during the mid-century.
Mid-century modern furniture is known for its simple shapes, lack of ornamentation, and practicality. Mid-century modern design elements often use design inspired by the machine age with clean lines, minimal detailing, and limited colors with organic forms such as the use of curved edges.
Mid Century Modern Designers & Artists
Some mid-century modern designers include Charles and Ray Eames, Finn Juhl, Arne Jacobsen, George Nelson…not to mention tons more! One mid-20th-century designer who was a pioneer in mid-century modern design is a man named Charles Eames. The mid-century modern design work of Charles and his wife, Ray Eames is perhaps some of the most iconic mid-20th-century mid-century modern furniture still in production today.
Charles' mid-century modern designs are known for his use of materials like molded plywood. This was revolutionary at the time because it allowed designers to create organic shapes. His mid-century modern furniture pieces like his mid-century sofa with its curved wooden frame and exposed stainless steel legs continue to be popular even decades after they were first designed.
Another popular mid-century designer is Finn Juhl. Finn was a Danish furniture designer who was popular in the 1940s and 50s. He is known for his simple designs, use of natural materials, and focus on comfort. One of his most popular mid-century modern furniture pieces is the "Pelican" chair, which is made of wood and has a comfortable, curved seat.
What to Avoid When Designing a Mid-Century Space
Mid-Century Modernism is a very stylistic and aesthetically pleasing architectural movement that has been popular throughout the United States since 1950. Though much of this style's popularity can be attributed to its clean lines and lack of clutter, many avoid designing in this style because they don't understand how to avoid common mid-century design mistakes.
If you want your mid-century space to avoid these common mistakes and truly feel like it belongs in 2014, make sure you avoid these 10 classic mid-century design fails:
1. Using "Heavy" Mid-Century Furniture
There are some pieces from the era which could certainly carry the weight (Ruhlmann Zig Zag chairs for example). However, most furniture isn't built to withstand the test of time.
Most mid-century furniture is bulky, ornate, and uses a great deal of wood. Not only does this make it heavy and difficult to move around, but it can also make your space feel cluttered and dated.
2. Focusing Too Much on Reproductions
Reproductions can be beautiful and help you to achieve a mid-century look without spending a fortune on original pieces. However, it's important not to go overboard. If every piece in your space is a reproduction, it will just look like a copycat version of someone else's space and won't feel authentically mid-century.
3. Choosing the Wrong Colors
Many people avoid using bold colors in their mid-century spaces for fear that they will not match or clash. However, if done correctly, bold colors can be the most striking aspect of your mid-century modern space.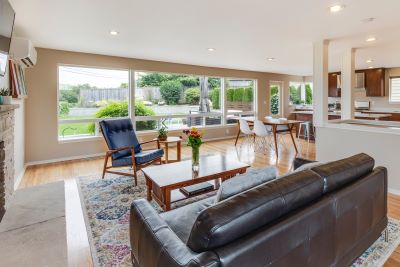 4. Using Dark Colors on the Floor
One thing many avoid in mid-century spaces is using dark colors on the floor, but it's something you want to avoid doing when designing your space today.
As mentioned above, most mid-century furniture used a great deal of wood in their design which made bright white floors an obvious choice. Today, however, since dark hardwood floors are much more popular than they were back then, avoid sticking with this rule simply because it no longer applies.
5. Hanging Curtains Too Low
While curtains are commonplace in mid-century spaces, avoid hanging them too low. It's important to have them high enough to avoid blocking your view out of the window but low enough so they don't cover up the entire window.
6. Not Using Central Light Fixtures
One thing mid-century architecture was well known for was their open floor plans with large central skylights or two-story windows to let in as much natural light as possible. Without this, your space will lack that essential mid-century feel and uniformity.
7. Sticking With One Style Throughout the House
Many mid-century homes stuck with one style throughout (often using a very uniform "California" look). However, not all did which is something you should avoid when designing your own space. Mixing different styles will help to avoid making your space feel too dated or like a copycat.
8. Not Incorporating Nature
One of the things that made mid-century spaces so popular was their incorporation of natural elements into the design. Whether it was through large windows that brought the outside in or by using materials such as wood and stone, make sure to include nature in your space for that authentic mid-century feel.
9. Forgetting to Add Personal Touches
In the era of Mid-Century Modernism, many people avoided adding personal touches to their spaces to maintain a more minimalist look. However, this is something you should avoid when designing your today. Adding personal touches will help to make your space feel like yours and not just a copy of someone else's.
10. Not Including Artwork
Like personal touches, the artwork is a great way to add your unique style to your mid-century space. Not only will it help to make the space feel more like your own, but it can also be a great source of inspiration and motivation. Not to mention, some endless mid-century artists can inspire you.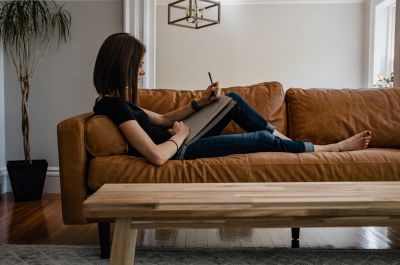 11. Forgetting to Indulge in the Latest Trends
While the mid-century design is making a comeback, that doesn't mean you should avoid incorporating the latest trends into your space. Doing so will help to keep your space feeling fresh and new and avoid making it feel like you're stuck in the past.
12. Not Considering the Size of Your Space
One of the biggest mistakes people make when designing their mid-century spaces is not considering the size of their space. Just because you like a certain style, doesn't mean it will work in your current home. Be sure to take measurements and plan out your design before getting too far into the project.
Along with considering the size of your space, it's important to also consider your personal preferences. Just because a style is popular or "in," doesn't mean it's right for you. Be true to yourself and your taste when designing your space.
In Conclusion
Mid-century modern design is one of the most popular design styles today because it offers a timeless look with a modern twist. I love this style because it's simple, functional, and stylish all at the same time. By incorporating mid-century modern elements into your home, you can create a stylish and comfortable space that will be enjoyed for years to come!